PepWear is the proud sponsor of the Tim Hicks Memorial Jazz Scholarship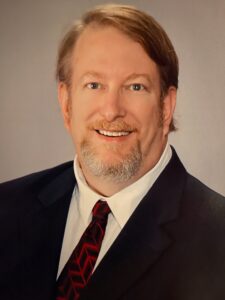 Tim Hicks graduated from Jesuit College Preparatory School in Dallas in 1981 and received his Bachelor of Music degree from SMU.  He taught in Westwood ISD, Hillsboro ISD and Ferris ISD prior to being selected as the Director of Bands at St Mark's School of Dallas.  Over the next two decades, St. Mark's band and jazz programs flourished under Tim's direction. Many of his students have represented St. Mark's as part of the Texas Private Music School Educators Association All-State Band and Jazz Band.
Tim's colleagues at St Mark's said, "Tim's greatest passion was teaching Band and inspiring students to find the magic moments in a song, to listen to each other, and to play with joy," "Note by note, line by line, Tim taught students to enjoy the gift of making music together."
In addition to teaching music in both the Middle and Upper Schools at St Mark's, Tim also served as a sixth-grade advisor and sponsored the Jazz Club. An avid musician and performer, he played a variety of brass instruments and could often be found sitting in with different ensembles, free-lance performing around the metroplex, playing in Tuba Christmas, performing with the SMU alumni band, Dallas Czech Orchestra, and Celebration Jazz Orchestra, and playing the tuba in the Richardson Community Band.
In 2010, Tim lobbied for the creation of the TPSMEA All-State Jazz Band and was its first coordinator.  He oversaw the creation of the first TPSMEA All-State Jazz Band in 2011 and was later elected TPSMEA Vice President for Jazz and Contemporary Ensembles.  Tim guided the Jazz Band from creation in 2011 through the January 2022 concert, just weeks before his untimely passing.
Eligibility Requirements:
Graduating senior from a Texas private school who is entering an accredited college or university in the fall, 2023, taking a minimum of 12 college hours and has been a member of a TPSMEA All State Jazz Ensemble for at least one year during his/her high school career.
Outstanding musical ability
Superior moral character
Must have declared music as a major or a minor
Compose an original essay entitled "Reasons Why I Love Jazz"
Applicants are asked to submit a competed application by 11:59 PM on January 10, 2023. The applications will be reviewed by the scholarship committee of TPSMEA.  The winner will be notified during the All-State weekend and will be presented at the All-State Concert on January 28, 2023.
Only complete applications will be considered.
The completed application consists of:
Completed PepWear/TPSMEA Tim Hicks Memorial Scholarship Application (all required fields must be answered)
3-5 evaluations (One evaluation must be from your primary

High School Jazz Band Director

and one must be from your

High School Principal

. Other evaluations need to be from individuals who have knowledge of your skills as a musician and your potential success as a musician. Please send the email addresses of your evaluators to ron@tpsmea.org.  An email will be sent to each of them with a link to the online evaluation form.)
An original essay on the topic: "Reasons Why I Love Jazz."
PepWear/Texas Private School Music Educators Association will award the selected recipient(s) with a scholarship of $1,000 for one year only.
The completed PepWear/TPSMEA Tim Hicks Memorial Jazz Scholarship application and supporting evaluations should be completed below. The scholarship application, essay and supporting evaluations must be received no later than 11:59 PM on January 10, 2023. This is not a postmark date but an actual "in hand" date. Late applications and evaluations will not be considered.  All information should be provided TPSMEA via the online form below except your essay. You will need to upload your essay to this application using the button provided at the bottom of the form.  The uploaded essay should be in either a Microsoft Word or pdf file.
Since you cannot save, retrieve, or modify information once you submit your application, we suggest you review the questions and are prepared to answer all of them prior to beginning the application.  Before you submit the application, please review it for correctness, grammar and spelling.
We will send you an email confirmation of receipt of your scholarship application within 3 days after the closing date.
(Please note: By submitting this scholarship application, you are waiving your right of access to any evaluations submitted on your behalf.)