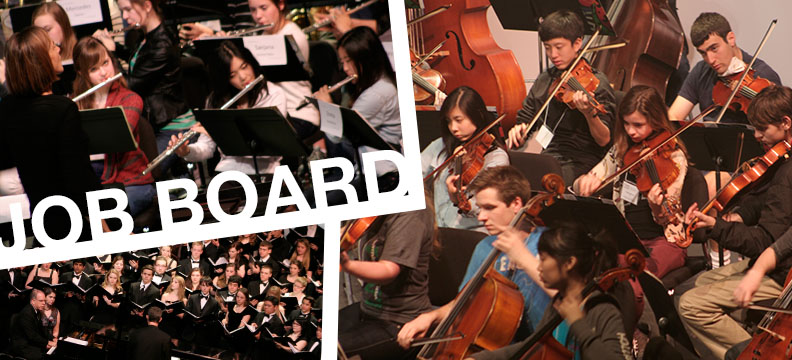 BISHOP DUNNE CATHOLIC SCHOOL
Part-time Strings Teacher
Bishop Dunne Catholic School is seeking a Part-time Strings Teacher who is experienced as a Middle and High School Orchestra Teacher. This teacher will have the opportunity to build upon a strong foundation already in place to develop an innovative and creative program.
Responsibilities will include teaching and conducting the High School and Middle School Orchestras. In addition, this teacher will maintain the school's instrument library.
The position starts immediately for the 2022-2023 Academic Year.
Mission Statement
Bishop Dunne Catholic School empowers each student to explore, inquire, lead, and serve through a college preparatory education in a joyful community of faith.
Bishop Dunne is the only Catholic diocesan school that enrolls students in grades six through twelve. The Bishop Dunne student body mirrors the diversity of Dallas, with over 75% identifying as students of color, and approximately half the students are Catholic.
General Duties:
The mission of the Catholic school is to "Teach as Jesus did," thereby mandating teachers in our schools to be reflections of Christ's love and concern. The classroom teacher plans, guides, and evaluates the learning process of students.
Specific Qualities Desired Include:
Dedicated to teaching young people and to employing effective pedagogical processes
Ability to build and grow students' musical abilities in an empowering and uplifting manner
Ability to teach and build the technical skills of strings
Familiarity with and enthusiasm for a wide range of musical genres, including traditional Catholic music
Ability to select appropriately challenging pieces within a wide range of genres
Ability to arrange music appropriate for each ensemble
Ability to manage a classroom and direct effective rehearsals
Enthusiastic about the subject and able to share that enthusiasm
Willingness and ability to collaborate effectively with students, teachers, and parents
Take on other duties as needed
Qualifications
Bachelor's Degree required (music preferred);
Certified teacher in the state of Texas, or a minimum of 12 hours of appropriate courses in education
String player (violin, viola, cello or bass) preferred
3 years' teaching experience preferred
Excellent interpersonal, written, and verbal communication skills
Demonstrated experience and skill in the effective use of technology and integrating technological applications in the classroom
Collaborative and collegial
Diligent and well-organized
Possess a strong commitment to the mission and vision of Bishop Dunne Catholic School
Physical Demands
 The physical demands described here are representative of those that must be met by an employee to successfully perform the essential functions of this job. Reasonable accommodations may be made to enable individuals with disabilities to perform the essential functions:
Ability to work both indoors and outdoors as required (i.e. field trips, overnight trips).
Move chairs, stands, instruments as needed
All candidates must be able to pass background checks and comply with the Diocese of Dallas Safe Environment Program. Candidates must be currently authorized to work in the United States.
Qualified candidates please send cover letter, resume and transcripts to Anna Lee Friesen, Human Resources, at hr@bdcs.org.
____________________________________________________________________________
THE COVENANT SCHOOL
Accompanist and Music Assistant
Purpose
The Covenant School seeks an Accompanist and Music Assistant for the 2022-2023 academic year.  An ideal candidate will have a bachelor degree, accompanying experience, a special love for middle and high school students, and the winsomeness and creativity to work with them. Moreover, all Covenant faculty serve as pastors (shepherds) of our students, advising them in their walk with Jesus Christ.
This position is for a part-time, ten-month employee (exempt). This person will report to the Director of Fine Arts.
Required Qualifications
Bachelor of Music Degree

High level proficiency in piano playing skills

Experience in collaborative piano
Duties and Responsibilities
Character: Exhibit the fruits of the Spirit, serving as a Christian role model both in and out of school.  Set a good example for students, parents, and colleagues in speech, actions, attitude, judgment, dignity, and respect, while living in obedience to God's Word. Seek to conform to Covenant's Faculty Profile (below).
Duties: 
Able to accompany 5th grade, middle school, and high school choir classes

Assist with warm-ups and running sectionals as needed

Assist choir directors with scheduling rehearsals, communication, ordering, and budget tracking; logging, copying, filing, test and record keeping for the choral classes

Maintain music library on computer and able to add new titles and library numbers.  Assist in preparing music for distribution to classes (hole-punch, number, etc.), take up music, put in numerical order, and file after concerts.

Assist with various aspects of production as needed

Able to chaperone trips and organize parent chaperone groups
To apply, visit 
Careers | The Covenant School (covenantdallas.com)
Submit application, cover letter, resume, personal testimony of Christian faith. 
____________________________________________________________________________
ST ANDREW'S EPISCOPAL SCHOOL
Band Director and Music Teacher
Upper School Band Director and Music Teacher
St. Andrew's Episcopal School seeks to hire an innovative, nurturing, and knowledgeable Upper School Music Teacher (grades 9-12) with responsibilities to begin in August 2022. At St. Andrew's, we believe in the importance of multi-contextual relationships as foundations for learning. In addition to teaching duties, faculty members are broadly involved with school life as coaches, club and extracurricular program affiliates, or an equivalent contribution to the school. Each faculty member also serves as an advisor to several students.
Responsibilities
● Teach three courses – AP Music Theory, Concert Band, and Jazz Band.
● Serve as an advisor to 8-10 students.
● Complete rehearsal planning for each performance ensemble and plan appropriate performances throughout the school year.
● Attend and facilitate ensemble performances at the annual ISAS Fine Arts Festival.
● Collaborate with middle school counterparts the following 5th/6th-12th grade combined performances: Homecoming, Lessons and Carols, Combined Band Concert, and St.
Andrew's Day (usually US only).
● Repair school-owned instruments or work closely with local technician to keep instruments in good, working order.
● Order music and other supplies and equipment.
● Provide budget oversight.
● Collaborate with Upper School Choir Director to plan and facilitate the TPSMEA Central Solo and Ensemble Festival.
● Facilitate TPSMEA All-state Jazz Band and Concert Band recorded auditions.
● Attend all TPSMEA All-region and All-state honors ensemble commitments.
● When applicable, sponsor students through TMEA/ATSSB auditions and all-region, area, and all-state honors ensembles, and complete accompanying director commitments.

Qualifications
● Bachelor's degree in music, music education, or related field; master's degree preferred.
● A passion for teaching music and working with high school students.
● Ability to teach a range of courses; the strongest candidates will be able to teach AP Music Theory.
● Knowledge of appropriate ensemble literature.
● Special consideration will be given to candidates with a background in jazz studies.
● Background in and commitment to planning and facilitating collaborative, student centered learning experiences.
● Background in and commitment to culturally responsive teaching.
● Experience with effective use of technology in the learning process.
● Strong interpersonal, organizational, and communication (oral and written) abilities.
● Ability to work collaboratively and independently, as needed, and appropriate.
● Proficient computer skills, including familiarity with Google suite.
St. Andrew's is a co-educational Episcopal K-12 day school, enrolling approximately 970 students on two campuses in Austin, Texas. The school strives to help young people from diverse racial, religious, ethnic, and socioeconomic backgrounds to achieve their potential not only in intellectual understanding but also in aesthetic sensitivity, physical well-being, and moral decisiveness so that they may lead productive, responsible lives, not only for themselves but also for their community.
For more information about St. Andrew's School in Austin, please access our website: www.sasaustin.org.
To be considered for this position at St. Andrew's, we ask that candidates submit a resume, and in lieu of a cover letter, applicants are asked to submit written responses to the 3 questions listed in this job description. Please submit your resume and written responses to the 3 questions to Michelle Roe, Director of Finance & Human Resources, at hr@sasaustin.org.
1. The work of diversity, equity, and inclusion is a never-ending journey. As it relates to your experience in schools, what is the most important thing that you have learned along your DEI journey?
2. As an Episcopal school, St. Andrew's seeks to nurture the development of the whole child, body, mind, and spirit, and to balance faith and reason, the head and the heart, in the learning process.  This Episcopal ethos takes shape in things like daily chapel, service learning, DEI (Diversity, Equity, and Inclusion), and SEL (Social and Emotional Learning). What, if anything, attracts you to working in an educational community that embraces a holistic approach to learning and formation?
3. What has been your most meaningful professional development experience? Please describe the experience, why you sought it, and how it has influenced your professional contributions.
St. Andrew's is committed to providing equal opportunity in all personnel actions and in the administration of all policies and programs.
St. Andrew's employs individuals without regard to race, color, nationality, ethnicity, religion, disability, sex, gender identity or sexual orientation as protected by federal, state, or local law
____________________________________________________________________________
TRINITY CHRISTIAN ACADEMY
Band Director
Trinity Christian Academy is looking for a dedicated, enthusiastic and knowledgeable Band Director for the 2022/23 school year. TCA was founded on the purpose of educating and developing the whole person for the glory of God, we integrate faith with learning because we believe God created us in His image to be lovers and learners of Him, of our neighbors and of all creation. Our students are challenged academically through rigorous curriculum in 21st century classrooms. We are dedicated to preparing our students to pursue higher education at the country's most prestigious and challenging colleges and universities. Through a combination of called and caring teachers, low student turnover and active family involvement, the TCA experience is one of community. Families, faculty and students develop long-standing relationships built on a pursuit of excellence in every area and a shared commitment to Jesus Christ.
Trinity Christian Academy is looking for a dedicated, enthusiastic and knowledgeable employee to join our education community who meets the following criteria:
Has a desire to work in a private, evangelical Christian, independent, conservative, college-preparatory school
Is a committed Christian, active in your local church and growing in your personal walk with Christ
Has a passion for your areas of specialty, as well as the ability to communicate effectively with students and parents
Has a personal lifestyle and character that are above reproach
General Responsibilities
Responsible for direct instruction including

5th Grade Introduction to Instrument class
6th Grade Beginning Band
7/8th Grade Intermediate Band
High School Band (9th-12th)

Responsible for organizing/coordinating band participation in

Pep Rallies
Football Games
Christmas and Spring Concerts
All Region Auditions
All State Auditions
Solo/Ensemble Opportunities
Concert and Sight-reading Competitions
ATSSB and TPSMEA Events

Responsible for organizing/coordinating/administrating

Maintaining budgets for all bands
Administrate and coordinate Band Staff (part-time Percussion Instructor and part-time Assistant Director)
Provide communication for all parents and students
Coordinate transportation for band events
Recruiting students to participate in band
Coordinating with cheerleaders, drill team, coaches for football games
Loaning out and maintaining school-owned instruments
Additional supervisory responsibilities
Education, Experience and Qualifications
Minimum of a BA in Music or Music education
Experience teaching music to middle and high school students is strongly preferred
To learn more about this position and apply online please use this link.
____________________________________________________________________________
THE COVENANT SCHOOL
Grammar/Logic Music Teacher and Accompanist
The Covenant School  seeks a  Grammar/Logic Music Teacher and Accompanist for the 2022-2023 academic year.  An ideal candidate will have a bachelor degree in music, teaching experience, a special love for students, and the winsomeness and creativity to teach them. Moreover, all Covenant teachers serve as pastors (shepherds) of our students, advising them in their walk with Jesus Christ.
For more information, please click on the link below.
https://covenantdallas.com/discover/careers/teaching-openings/
____________________________________________________________________________
NOLAN CATHOLIC HIGH SCHOOL
Director of Instrumental Music – Band and Orchestra
Nolan Catholic High School is seeking a full-time Band and Orchestra Director for the 2022-2023 academic year.  
The desired applicant will be able to provide engaging and active instruction, possess a high level of content mastery, have the ability to collaborate well with colleagues, and be experienced teaching Band and Orchestra. The position will include teaching music to a varied level of student, from beginner to advanced, and directing and coordinating the activities of the Nolan Catholic Marching Band.  Along with a love for learning, applicants must hold a bachelor's degree in Music OR a valid state teaching certification in Music Instruction, or be in the process of acquiring one.
The successful applicant may be asked to teach another course, depending on background and experience.  
The candidate should understand how a Catholic worldview permeates the curriculum and instruction and be a disciple of Christ committed to providing a Gospel witness. 
Nolan Catholic High School assists parents with the education and formation of students in Truth, Goodness, and Beauty by providing Catholic Christ-centered faith experiences, challenging academics, and formative student activities that prepare students to respond to God's call. 
All interested applicants should take the brief survey (https://go.apply.ci/s/21773D0000) and email a cover letter, résumé, and completed application to Mr. Ryan Faller, Principal for Academics, at rfaller@nchstx.org. 
https://www.nolancatholic.org/careers
____________________________________________________________________________
THE HOCKADAY SCHOOL
Orchestra Assistant
About The Hockaday School:
The Hockaday School is an independent, college preparatory school for girls of strong potential and diverse backgrounds who may be expected to assume positions of responsibility and leadership in a rapidly changing world. With an enrollment of more than 1,100 students, The Hockaday School is the nation's largest prekindergarten through grade 12 independent girls' school. Ranked among the country's finest college preparatory schools, it was founded over a century ago and continues today to build on its original Four Cornerstones: Character, Courtesy, Scholarship, and Athletics.  Hockaday's faculty are recognized as experienced leaders in their field and students in every grade benefit from outstanding faculty and access to unmatched resources. Families who choose Hockaday care deeply about providing their daughters with a comprehensive and rigorous education, both inside and outside the classroom.  Hockaday's student body reflects the diversity that is deeply valued by the School. While most Hockaday families come from across the greater Dallas-Fort Worth area, Hockaday students also come from across the United States and around the world.

Position Description:
Hockaday Fine Arts Department is hiring an orchestra assistant. This position will work within all three divisions and should be effective with students of all ages and levels of instrumental studies. This position will report directly to the Director of Orchestral Studies but will work with many different faculty members including the Middle School Orchestra Director, Private Lesson Faculty, and Fine Arts Department.

Essential Functions:
• Assist and attend all Lower, Middle and Upper School Orchestras classes
• Ready all rehearsal spaces prior to class
• Keep accurate instrument inventory
• Assist with instrument maintenance, music preparation, and library maintenance.
• Assist the 2nd grade Strings Class
• Assist and attend all TMEA and TPSMEA events and auditions often on Saturdays.
• Assist and attend all orchestra activities, concerts, events, trips and performances
• Other duties as assigned

Qualifications/Experience:
• Ability to work with students both in the classroom and online, as needed
• Bachelors or Masters in Music Education or Music Performance
• Commitment to being a supportive, respectful, and energetic colleague and mentor
• Comfortable with music software for transposition and rewriting parts as needed
• Capable of demonstration, able to effectively lead sectionals, string playing required, keyboard skills preferred
• Suzuki training preferred
• Must have the ability to work in a school environment through satisfactory completion of all legally required and School-required background and screening checks and verifications, including criminal and sex offender background checks

Training:
• Participate in all requisite School trainings prior to the start of the school, and throughout the School year
• Attend required staff development and training sessions throughout the year. Attend periodic in-service meetings
• Acknowledge receipt of the current Employee Handbook and are responsible for reviewing the contents and abiding by rules, policies and procedures stated in the Handbook or otherwise by the School
• Abide by Hockaday's Code of Ethics and Conduct
• Commit to the ideals expressed in Hockaday's Tenets of Staff Excellence Physical Requirements and Work Environment:
• Regularly works in standard office or classroom conditions and climate
• Regularly uses close and distance vision, including working at a computer screen for extended periods of time; ability to observe students from various distances
• Frequently required to move around the office/classroom; works at a desk for extended periods of time
• Frequently will move items weighing up to 30lbs. across the campus/classroom/office
• Frequent support before and after-school or weekend events
• Ability to maintain appropriate boundaries with students, fellow staff and community members

Limitations and Disclaimer:
The above job description is meant to describe the general nature and level of work being performed; it is not intended to be construed as an exhaustive list of all responsibilities, duties and skills required for the position.  This job description reflects administration's assignment of essential functions; and nothing in this herein restricts administration's right to assign or reassign duties and responsibilities to this job at any time.  All job requirements are subject to possible modification to reasonably accommodate individuals with disabilities.
Some requirements may exclude individuals who pose a direct threat or significant risk to the health and safety of themselves or other employees.  This job description in no way states or implies that these are the only duties to be performed by the employee occupying this position. Employees will be required to follow any other job-related instructions and to perform other job-related duties requested by their supervisor in compliance with Federal and State Laws.  Requirements are representative of minimum levels of knowledge, skills and/or abilities. To perform this job successfully, the employee must possess the abilities or aptitudes to perform each duty proficiently. Continued employment remains on an "at-will" basis.

Application Requirements:
Qualified candidates should complete an online application for employment under How To Apply at https://www.hockaday.org/about/employment and attach a cover letter and résumé. You will receive an email confirming receipt of your application and additional details to complete the application process. Contact recruitment@hockaday.org with any questions.  The Hockaday School is an equal opportunity employer. It is our policy not to discriminate, and to comply with all applicable state and federal laws prohibiting discrimination in employment based on race, color, sex, sexual orientation, creed, religion, national origin, ethnicity, age, disability, veteran status, or other applicable protected
classification,