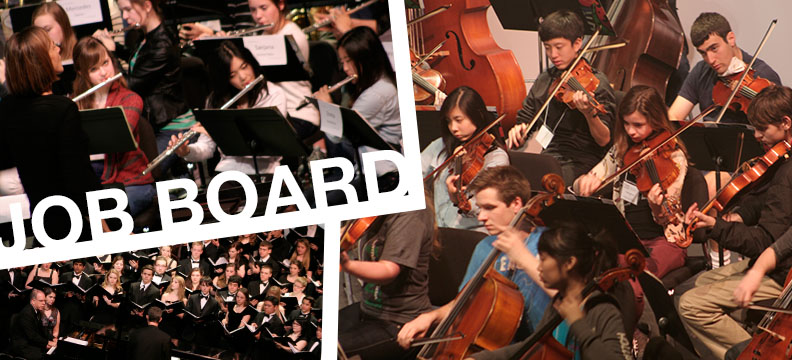 EPISCOPAL HIGH SCHOOL
Houston, TX
Instrumental Director; Music Program Coordinator
Episcopal High School seeks a dynamic leader for the position of Music Teacher and Program Coordinator, who will serve as the director of band, orchestra, and instrumental ensembles and manage all areas of curriculum instruction for these groups, as well as leading campus-wide initiatives that engage students with music instruction and performance.
The coordinator will identify growth opportunities within existing music programs (i.e., guitar class, piano class, instrumental ensemble, and lessons) and recommend plans to increase opportunities by introducing new programs (i.e., percussion ensemble, music technology, and contemporary ensembles in jazz, rock, and chapel music). Additionally, the coordinator will work with program leaders from area middle schools to develop and implement initiatives that create robust yields in enrollment upon acceptance to EHS.
For all teaching positions, EHS seeks candidates with a strong educational background, a demonstrated commitment to working with young people and collaborating with colleagues, a desire for ongoing professional growth, and a willingness to participate in other areas of school life. The successful candidate will support the school's mission in providing opportunities for each student to reach his or her maximum spiritual, intellectual, social, and ethical potential. EHS's teaching philosophy emphasizes understanding and responding to the individual needs and capabilities of each student. As a laptop school, EHS also expects teachers to support its laptop program and be committed to using technology effectively and creatively to enhance student learning and facilitate course administration.
Interested candidates are asked to e-mail a letter, resume, and contact information of four references to Nguyet Pham, Dean of Faculty, at npham@ehshouston.org. The request to complete and submit via regular mail an employment application will be made later in the process.
https://www.ehshouston.org
---
THE CHRISTIAN SCHOOL AT CASTLE HILLS
Secondary Choral Director for Grades 7-12
Part-Time Monday – Friday
The Christian School at Castle Hills, serving students 18 months through 12th grade, is a college preparatory school that is leading students to know Christ and make Christ known while developing tomorrow's servant leaders today. We are currently accepting applications for a Choral Director Grades 7-12. Qualifications include:
• A love for Jesus Christ and a desire to serve students and families
• A Bachelor of Music Education degree
• State certification is preferred
• Experience teaching in the classroom and leading developing choirs
• Excellent organizational skills and communication skills
• Knowledge of choral music repertoire for middle and high school developing choirs
This is a part-time position Monday through Friday afternoons that reports to the Fine Arts Director. Established in 1981, Castle Hills is in San Antonio and serves approximately 650 students. The Secondary Choral Director is responsible for
• Developing middle and high school voices using quality choral repertoire
• Teaching sight-reading and theory within the choral classroom
• Preparing, organizing and creating choir concerts throughout the year
• Working with the Theater Director on a spring show
• Preparing students for vocal solos, ensembles, and contest performances
• Integrating a biblical worldview into the classroom
To learn more about our school, visit our website at www.castlehills.school. You may send a cover letter and resume to our Superintendent, Michael Pinkston at cmddonald@castlehills.school.
Bachelor of Music Education degree required. Individual must have experience working with the developing choir, good vocal technique, Kodaly sight-reading, and a knowledge of choral repertoire appropriate for middle and high school developing choirs. The ability to integrate a biblical worldview is required.
Interested applicants please send a cover letter and resume to Michael Pinkston at cmdonald@castlehills.school or mail to The Christian School at Castle Hills, Attn: Michael Pinkston 2216 NW Military Hwy, San Antonio, TX 78213.
_____________________________________________________________________________
BETHESDA CHRISTIAN SCHOOL
Fort Worth
Head Band Director
The head Band Director position is opening for the 2019-2020 school year at
Bethesda Christian School in Fort Worth.
The current head band director will be staying on part time to assist as needed.
____________________________________________________________________________
Beth Yeshurun Day School
Houston
Music Teacher
We are Beth Yeshurun Day School in Houston, a dynamic, faith-based, state of the art, private EC-5th Grade school that combines Jewish tradition with innovation, creating an extraordinary program. We have a faculty and administration that guides and develops each child academically, socially and physically in an environment that is safe, warm and nurturing.
We are seeking a full time Music Teacher for the 2019-2020 school year who identifies as creative and flexible, inspiring students through music curriculum.
These points below represent our ideal candidate, but aren't all necessarily required:
• You have earned a Bachelor's Degree or higher in the field of Music Education
• Are committed to making a difference on your own and as part of a team.
• Are happy and upbeat, with a positive attitude and a real passion for working with children
• Are a hard worker with a strong work ethic, who collaborates and communicates effectively
• You have a knowledge of Jewish values and traditions, ability to speak Hebrew or pronounce Hebrew a plus
• You have experience teaching music in public and/or private schools
• You have a working knowledge of both Orff and Kodaly
• You are capable of directing plays, musicals, programs, etc.
• You are willing to direct an after-school choir program
• The option to teach private lessons in our After School program is available but not required
• You have experience with music curriculum design
• You create unique and exciting lesson plans that include and incorporate technology
• You're comfortable teaching recorder, ukulele, and possibly, beginner guitar
• Ability to lead sing and play piano and/or guitar
• Ability to read music, chord charts, and improvise
• Texas certified in K-12 Music Education
Required Experience:
• Bachelor's Degree or higher in the field of Music
• Ability to play piano and/or guitar and to lead sing while playing
• Salary is competitive with public schools, includes benefits, and will also reflect experience
If you are ready to make a difference doing something you are passionate about, and can see yourself building a future in a growing school, please contact us via our online application.
BYDS is proud to provide equal employment opportunities (EEO) to all employees and applicants for employment without regard to race, color, sex, national origin, age, disability, or genetics.
For more information, please contact Cindy Kirsch at ckirsch@byds.org