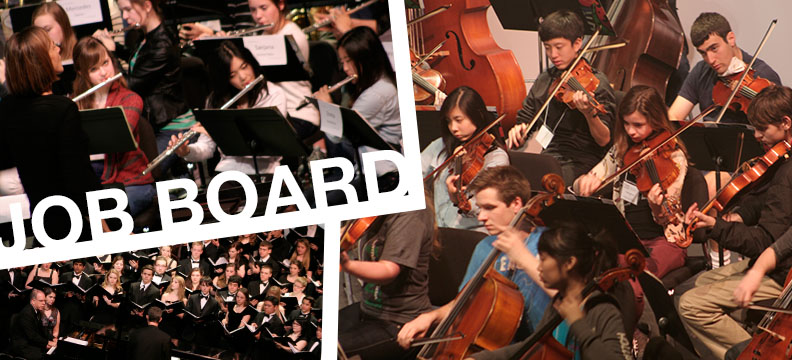 Greenhill School
Addison, TX
Middle and Upper School Assistant Band Director
The Greenhill School in Addison, Texas is seeking a Middle and Upper School Assistant Band Director.  This is a Full Time position and requires a Bachelors Degree.
PRINCIPLE DUTIES AND RESPONSIBILITIES
The school seeks an outstanding educator for Assistant Band Director whose duties compris
Co-teach middle school and upper school band classes with the Band Director;
Strong percussion instruction experience is preferred, as well as the ability to teach woodwind and brass instruments.
Direct the Hornet drumline and percussion ensembles;
Help the Band Director prepare students for competitions and performances, such as TPSMEA and ATSSB events, including all-region auditions, solo/ensemble, and scholarship auditions.
Prepare and direct the Hornet Drumline for football games and pep rallies; Greenhill does not have a marching band.
Collaborate directly with Department Head and performing arts colleagues in the development of the overall music and performing arts curriculum;
ADDITIONAL EXPECTATIONS 
 Participate in the Middle School Community Style Dining program with Middle School students during the appropriate lunch schedule;
Act as a chaperone to the ISAS Fine Arts Festival with Upper School Fine Art students;
Participate in and attend Greenhill extracurricular activities and events to promote positive school culture and provide support for students and staff;
Actively engage and participate in culture building, including but not limited to, classroom, lunch, and hallway norm expectations.

Folks interested should go to this link: https://www.paycomonline.net/v4/ats/web.php/jobs/ViewJobDetails?job=16243&clientkey=A69C91BF9C768D0AB0723A50AC75259F

Or contact Brian Donnell at donnellb@greenhill.org
__________________________________
Houston Christian High School
Band Director
Houston Christian (HC) is accepting applications for the position of Band Director to begin in August 2020. This position reports to the Performing Arts Department Chair and Principal and works in collaboration with other Performing Arts Faculty. This is a full-time, exempt position. The Band Director is responsible for directing the school's Band program, teaching drumline, jazz band, and other classes as assigned within the performing arts. The Band Director will also be responsible for preparing students for competitions and performances. The Band Director prepares and directs the band for football games and pep rallies; this does not involve marching.
Qualified candidates should be skilled and certified to provide instrumental instruction and run an effective band performing and recruiting program. The specific teaching assignment will be determined according to department needs and flexibility of the department
 Qualifications:
Bachelor's Degree in Education, Music, or other relevant area, Master's Degree preferred.
Teacher certification or equivalent preferred.
Classroom experience in an educational setting preferred.
Proficient in basic technology applications, electronic grade book and curricular software and hardware with experience in online teacher or learning preferred. Google Apps knowledge is beneficial (i.e. Google Drive, Google Docs, Gmail).
Excellent verbal, visual, written, and interpersonal communication skills. Represent the school positively to the community and prospective students and their families.
Committed to the mission and values of Houston Christian High School.
Qualified candidates must be skilled and have a passion to provide History instruction. Effective organizational and presentation skills are necessary. Candidates should also possess excellent communication skills, a willingness to mentor students and the ability to incorporate 21st Century Skills into the curriculum. The successful candidate will be energetic and creative and possess a vision for excellence in academics at the high school level, a strong work ethic, and a desire to achieve success. Contribution to the life of the school outside the classroom is expected. Occasional after school, evening or weekend hours will be necessary.
Interested candidates may complete and submit the Houston Christian Professional Application with the Teacher philosophy questions, a cover letter, and resume to hr@houstonchristian.org. Instructions and the application are accessible from the Careers page at www.houstonchristian.org . Resumes are not reviewed without the complete HC application.
While HC gives preference to members of the Christian faith, the School is committed to equal employment opportunity. We will not discriminate against employees or applicants for employment on any legally recognized basis ["protected class"] including, but not limited to: veteran status, uniform service member status, race, color, sex, national origin, age, physical or mental disability, genetic information, pregnancy, childbirth, or any other protected class under federal, state, or local law except those exclusions specifically provided to Religious Organizations. The School is a Religious Organization as defined by Section 501(c)(3) of the Internal Revenue Code and accordingly reserves the right to employ persons who profess a Christian faith and have a philosophy of ministry similar to ours.
____________________________________________________________________________
St John's School
Band Director
(starting August 2020)
St. John's School is seeking candidates for the position of Middle School and Upper School Band Director.
The successful candidate will, first and foremost, enjoy working with students.  A bachelor's degree in music or music education and a minimum of 3 years of experience in teaching instructional band and directing ensembles are required. Duties include but are not limited to:
Teaching Middle School band classes
Directing Middle and Upper School band and wind ensembles
Designing curriculum and coordinating alignment within the K-12 music department
Serving as a Middle School Advisor and fulfilling standard faculty duties
In addition, the School seeks candidates eager to support a multi-faceted educational program designed to address the needs of the "whole person." Successful candidates promise to make a significant contribution to the school community beyond the Fine Arts Department, and to exemplify the virtues the School hopes to instill in its students. St. John's School seeks educators who are innovative and reflective, open to feedback, and eager for professional collaboration.
Interested candidates should email a letter of interest and resume to aleakey@sjs.org