Vocal Division Region 1
David N. Childs to conduct the
Region 1 Mixed Choir
David N. Childs, b. 1969 at Nelson, New Zealand, has a Bachelor's degree in composition and musicology from Canterbury University, Christchurch, New Zealand; a Master of Music degree in conducting from the Florida State University, Tallahassee; and a Doctorate of Musical Arts degree from Louisiana State University. From 2000-2011 Dr. Childs served as tenured Associate Professor of Choral Studies at the Blair School of Music, Vanderbilt University, Nashville. He has conducted numerous All-State and honor choirs, and his compositions frequently appear at state festivals and workshops, and at ACDA state, regional, and national conventions. He has received commissions from around the world, including Japan, New Zealand, and South Africa. In 2010 he was voted the Tennessee Composer of the Year. In May of 2013 he accepted the Director of Music position at University Park United Methodist Church in Dallas. In addition, in 2010 he established Vox Humana a Nashville-based professional choir of twenty-four voices, serving as their Executive and Artistic Director. Their compact disc recording Into the Night (featuring several SBMP titles) was released by Naxos in May, 2013. David is married to Lesley French Childs, Assistant Professor of Laryngology at University of Texas Southwestern Medical Center, Dallas, Texas, and the proud father of two beautiful young daughters.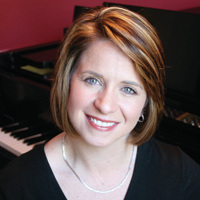 Monica Awbrey to conduct the
Region 1 Treble Choir
Monica Awbrey joined CCGD in 2016 as vocal coach and currently serves as assistant conductor of Women's Youth Chorus. She is currently involved with several choirs across the area as a director and a singer, including Christ the King Catholic Church and Cathedral Arts at St. Matthew's Cathedral. Inspiring young musicians is her passion, and she is fortunate to teach music at The Episcopal School of Dallas, teach private voice lessons to young singers and teach music camps every summer for various organizations. Previously, Mrs. Awbrey directed choral programs at Allen High School, Rowlett High School, and Taft High School (San Antonio). She has also served as the director for the Christmas Celebration Children's Chorus for the Dallas Symphony Orchestra. As a singer, she has performed with Orpheus Chamber Singers, Orchestra New Spain and the Dallas Bach Society. She has also held music positions at Church of the Incarnation, Episcopal Church of the Transfiguration, Highland Park United Methodist Church, and The Dallas Bach Society. Mrs. Awbrey holds Bachelor of Music and a Master of Arts in Teaching degrees from Trinity University.
Click here for the Region 1 Mixed and Treble Choir Repertoire List