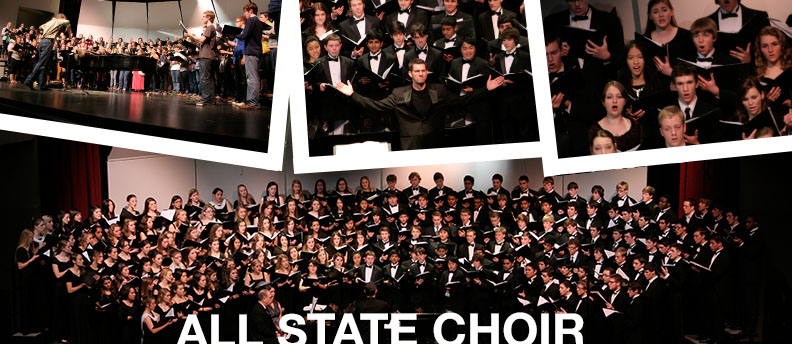 Dr. Pamela Elrod Huffman to conduct the 2019-2020 All State Choir

Pamela Elrod Huffman's conducting career spans all levels – from elementary and secondary schools to university, symphonic, and church choirs – and has included positions in Texas, New York, Illinois and Georgia. Since 2007, Dr. Huffman has served as the director of choral activities at SMU's Meadows School of the Arts, where she oversees the M.M. Choral Conducting program and directs the University's choral ensembles.
An accomplished vocalist, Huffman has appeared as a guest artist with numerous university, professional, community and church choirs throughout the country. From 1988 until 1999, she sang with the late Robert Shaw, performing and recording with the Robert Shaw Festival Singers, the Robert Shaw Choral Institutes, the Atlanta Symphony Orchestra Chorus and the Atlanta Symphony Chamber Chorus. Since 2003 she has been a member of the Grammy Award-winning professional choral ensemble, Conspirare, under the direction of Craig Hella Johnson.
Huffman regularly serves as a choral clinician and adjudicator in Texas and throughout the United States. In addition, she is a sought-after workshop clinician, particularly in the area of the choral techniques of Robert Shaw. Her articles on Shaw's warm-ups and rehearsal techniques can be found on the website dedicated to the late maestro, robertshaw.website.
Huffman holds bachelor's and master's degrees in music from the University of Texas at Austin and a D.M.A. in Choral Conducting from the University of Illinois, Champaign-Urbana. She is a member of TCDA, TMEA, ACDA, Chorus America and Pi Kappa Lambda. She currently serves as the president of TCDA.
2019-2020 ALL STATE LITERATURE LIST
*Awake the Harp
Franz Joseph Haydn (G. Schirmer No. 50293660)
Incantations
Wie der Hirsch schreit
Felix Mendelssohn-Bartholdy (Roger Dean Pub. 10/3223R)
SSAA:
*There Will Come Soft Rains
Kevin Memley Pavane P1448
TTBB:
*The Cloths of Heaven
Z. Randall Stroope (Colla Voce 48-96760)
Ring Out, Wild, Bells
Jonathan Dove – double choir (C. F. Peters)
The Waking
Giselle Wyers (Santa Barbara SBMP 868)
Unclouded Day
Shawn Kirchner (Boosey & Hawkes 979-0-051-48038-8)
*indicates audition selection
2019-2020 REHEARSAL CD
Selection from the 2017 All State Choir Concert
Pictures from All-State 2016
Here are a couple of pictures from our first All-State weekend
in Richardson at the Eisemann Center.


Here is a link to the video of the All-State choir
singing in the atrium of the Renaissance Hotel.